KESTRA and The Steve Giltrow Quartet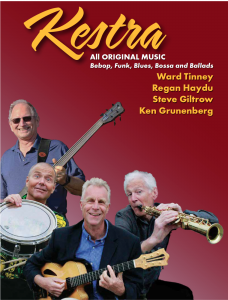 KESTRA is Ken Grunenberg Saxaphones, Steve Giltrow Guitars, Regan Haydu Drums, and Ward Tinney Bass.
This group is made up of some of the top musicians on the Sunshine Coast and is committed to writing and performing all styles of traditional and contemporary Jazz.
Ken has played sax in various jazz and r&b situations since his early teens. He currently plays regularly with the Coast Jazz Group of Seven, and KESTRA.
Steve has been playing guitar since he was seven years old. He has performed duos with some of the top musicians in Vancouver including Bill Coon, Karin Plato, Jennifer Scott, Kate Hammett Vaughan Laura Crema and Jodi Proznick, He has worked with various quartets and big bands and currently plays with Coast Jazz Group of Seven and Kestra.
Regan has been involved with many different groups on and off the Sunshine Coast. He was introduced to and embraced jazz music at an early age. He continued developing his jazz repertoire through his college years at Mohawk College in Hamilton, Ontario in the applied Music program as well as at McMaster University and Capilano College in British Columbia. Regan added to his music portfolio playing with a variety of genres over the years including funk, fusion, reggae, African and jazz.
Ward has played in multiple musical groups in different genres since childhood, from rock to classical to jazz. He currently plays with FAT Jazz of Coquitlam but since moving to the Sunshine Coast he has joined Kestra.
Click Calendar to see where they play next.
_____________________________________________
The Steve Giltrow Quartet is a dynamic group of musicians that combine the talents of guitarist/composer Steve Giltrow, Saxophonist/composer Ken Grunenberg: acoustic bassist Jon Bentley, and drummer Kristian Braathen.
The group which has been a working unit for a number of years is dedicated to performing original music such as Labyrinth, For Your Eyes and Lisa as well as their unique arrangements of standards.
Who are they?
In addition to Ken and Steve the Steve Giltrow Quartet includes..
Jon is a Juno nominated saxophonist based in Vancouver, Canada. A versatile musician Jon is also adept on the double bass. He has recorded and/or performed professionally in concerts with musicians/ groups such as Kenny Wheeler, Seamus Blake, Dave Douglas,  Brad Turner,  Vancouver Symphony Orchestra, and  The Temptations,
Kristian Kristian has worked as a professional musician for over 20 years. He has throughout Canada and the United States with the Russell Jackson Band (BB kings bassist) and has shared the stage with Donald Harrison (Art Blakey's Jazz Messangers and Matt 'Guitar' Murphy (the Blues Brothers)
Where have they performed?
The Steve Giltrow Quartet (aka The Cedar Groove Quartet) has performed standards and original music at the Pender Harbour Jazz Festival and The Gibsons Landing Jazz Festival. The have also performed  with singer /actress Jenny Le Gon Juno nominees Karin Plato and Kate Hammett-Vaughan as well as Jennifer Scott and Melody Daichan.
They have played at a number of venues on the Sunshine Coast as well as on Galiano Island and at the Pan Pacific Hotel in Vancouver.
They are available for house concerts, weddings parties etc.
Clicklisten to hear the quartet